How We Made Over $150,000 With Merch By Amazon In 2016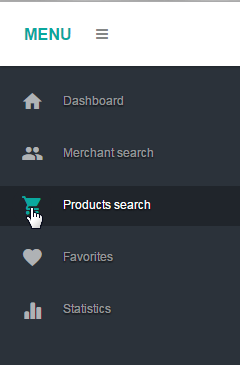 *Note: This article was original posted on passive.marketing my old blog. It has been moved over to its new home neillassen.com
It is not often that such an amazing opportunity just lands in your lap, but that is what happened when Amazon launched Merch By Amazon in late 2015. In case you were not aware, Merch By Amazon is a t-shirt print on demand (POD) and fulfillment service. I have written a few posts about this service this year. You can check out the tutorial here where I go over everything from A-Z on how to get started. You could tell I was excited about the opportunity and I even hinted at some big news right around the corner.
This post will be going over, in extreme detail, how my business partner and I earned over $150,000 this year (2016) with Merch by Amazon, and how you can too!
Make sure to read to the end where you can see my current monthly earnings, and how my business partner and I sold an account for $73,000!
What You Will Learn
What Is Merch By Amazon?
How To Sign Up
How To Research Niches
What You Need To Create Designs
Listing Optimization + Keywords
Outsourcing Design Work
Selling Your Business
This is going to be a long one, but in the end you should have all the tools to have success with Merch. Let's do it!
What Is Merch By Amazon?
Merch by Amazon is a print on demand or POD service that launched late last year. To simplify the concept, you create artwork, upload that artwork to the platform, and then Amazon will print it on a t-shirt when someone purchases it. Amazon handles the printing, the fulfillment, and customer service. Each and every product that you put up becomes a listing in their catalog that is searchable for consumers. Did I mention that they are all eligible for prime?
Time and time again I read about people starting a t-shirt business. In fact, I think a shirt business is what the majority of online entrepreneurs actually try out at some point in their journey. The sad part is the large majority of them end up failing. Do you know someone in that boat? Perhaps yourself?
Where Merch differs is that you are selling on Amazon! There are no minimum sales required for the shirt to print, there are no upfront costs, no overhead, no customer service. All you do is research niches, upload artwork, and Amazon handles the rest. The best part about ALL of this is that you do not need to send traffic to your listings. Amazon is one of the most trafficked websites ever which means millions of potential customers each and every day. All you need to do is optimize your listings, which we will get to later.
If you cannot see the massive potential with this program, turn back now. If the gears in your head are turning, let's get to it.
Signing Up For An Account
Originally Merch was a program that Amazon envisioned app developers would take advantage of. Quickly internet marketers took notice and started signing up because they saw the massive opportunity. Since the program was so new, Amazon did not have enough printers and resources to run this program for everyone who signed up. After a month of registration, Merch was locked down and there is now a wait time to be accepted. This used to be many months, but Amazon has been working hard to expand capacity, and the wait time is much shorter today. If you are reading this and are already accepted, congratulations!
For the rest of you, start by visiting the Merch homepage here: https://merch.amazon.com/landing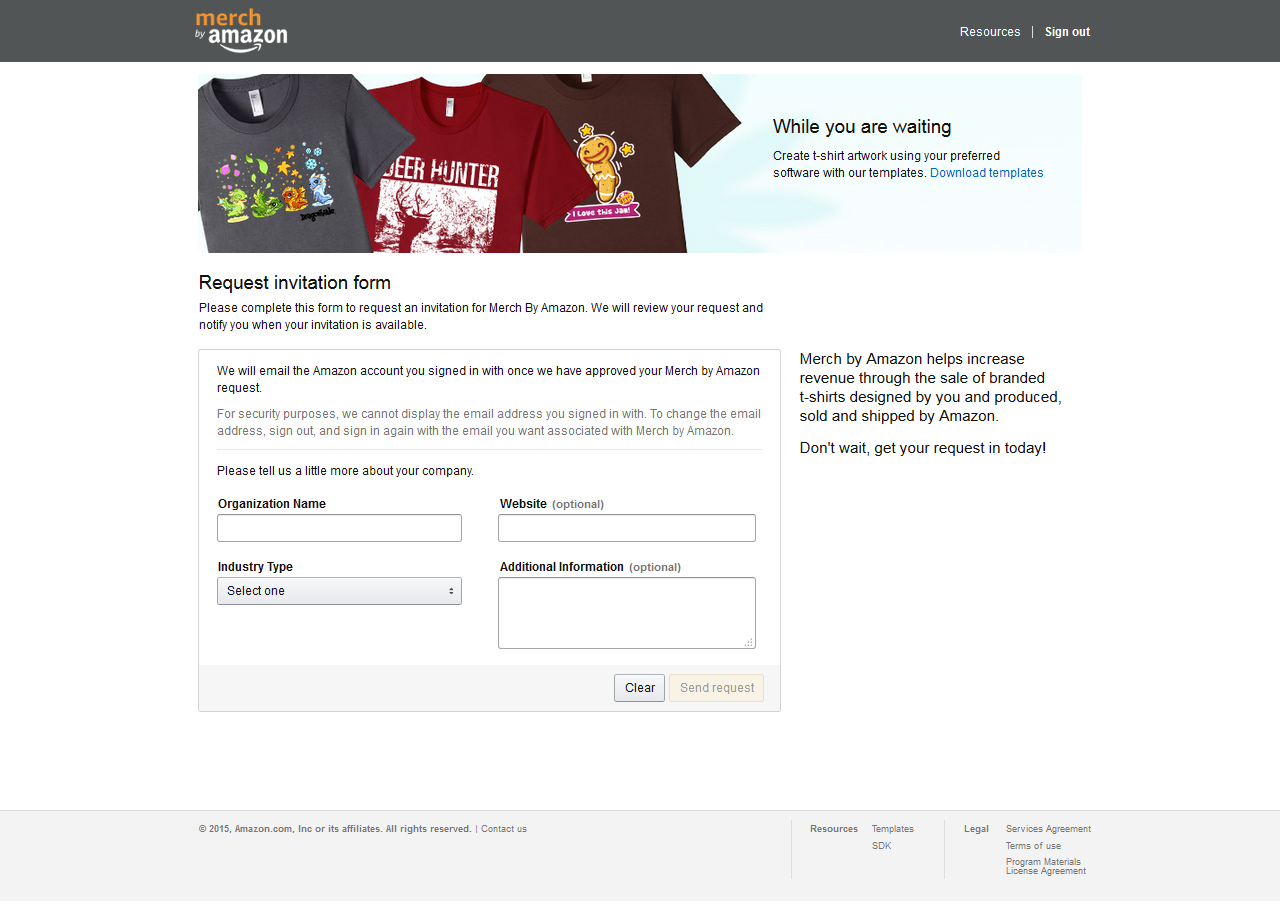 This will require you to log in and fill out some information about your business. For the organization name, if you are an individual, this is your full name. I usually pick a Novelty T-Shirt store for the Industry type, and then if you have any websites where you could drive traffic, include those in the additional information. If you do not, no worries! Eventually everyone gets accepted to the program.
Once you have filled out the information, submit it, and the waiting game begins. At this point you can get prepared for your acceptance! Also, make sure you check back and try and login to the account every so often. I had a friend that was accepted to the program and it took Amazon an entire month to send him the welcome email (even though he was making sales and designing that entire time!).
Dashboard Walk Through
For anyone already accepted and designing, you are probably very familiar with the dashboard so you can skip down to the next section. For everyone else, let's take a quick walk through the dashboard to get familiar with where everything is.
The first thing you will see when you login is a page that looks similar to this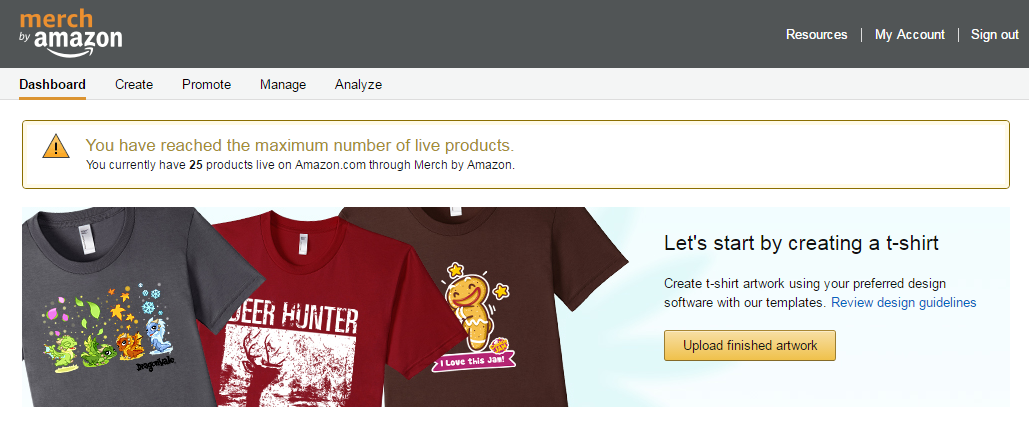 When you first get access to your account, you have 25 total slots, or design spots that you can upload. The Merch program works on a tier structure. You will start with 25 designs, but as soon as you have sold 25 designs, you get tiered up and more spots will open up.
Tier Levels Include:
25
100
500
1000
2000
4000
6000
8000
The tier levels above are the ones that I know people have hit. Sometimes you may get tiered up and completely skip a tier. This means that when you have 25 shirt sales, instead of getting tiered to 100 designs, they may bump you up to 500 because you are selling to well. Also note that the Merch FAQs section notes a different tier structure than what actually seems to be happening with the program.
Company Profile
Before you can put up any t-shirts live on Amazon, you need to fill out some information. Click on "My Account" in the top right hand corner. Under company profile, you need to fill out your information. If you have a business already, enter in that information. If you are an individual, your business name is the name you go by. Enter in your address, phone number, and an email you want to receive notifications on and hit save and continue.
Payment & Banking
On the left hand side of the same page, you will see payment and banking. You want to be paid for all the work you are about to do, so go ahead and click on "Add A Bank Account" and put in your information for direct deposit.
Tax Information
On the same page, on the left hand side, click on Tax Information. You will need to take their short quiz that will fill out the tax information before you can upload a shirt. Remember that if you are in the USA, Amazon will send you a 1099 at the end of the year. Save around 30% for taxes, as none are taken out when you get your direct deposit!
Resources
Now, at the very top of the page next to the "My Account" tab, you should see Resources. Click on this. You will want to read through all the information here as it is very important.  This will go over exactly how your royalties are calculated, best practices, content policies, FAQs, and the legal terms and conditions. Make sure you read through all of it and really familiarize yourself with the platform.

From here, we have the 5 main tabs that you will be using. Dashboard, Create, Promote, Manage, and Analyze.
*Note: Merch by Amazon promotions are in-app only. This means they are not available to you if you do not have an app.
Dashboard
The dashboard is where you will see all your products for sale. These will appear in the right hand column as well as links to that product. The middle column is used for active promotions. If you are not an app developer, this will be blank. On the right hand side, you will see the column called "Messages". This is where you can get any updates about the platform.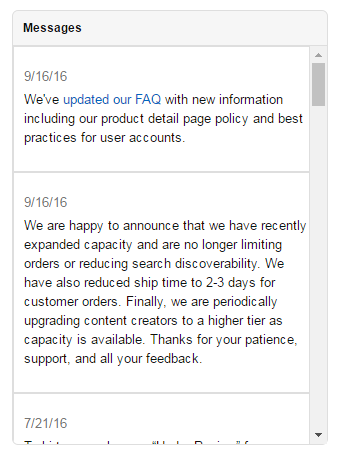 Manage
The manage tab is where you can keep track of all the shirts you have "live" on Amazon. You will be able to see their name, a very small image of what the design looks like, the date it was created, the price you are selling it for, the status, and you'll be able to edit or create promotions. Since I am not an app developer, I will not be talking about promotions.
There are multiple statuses that may show. After you upload a shirt, the first status that you will see is that it is "under review". This is completely normal. Once it passes under review, it will change to "starting processing" and quickly go to "processing". This means that your shirt has been accepted and now it needs to process before it goes "live". Eventually it will go live and you will get an email stating so. People can now begin finding your shirt in the Amazon catalog.
Analyze
Once you start selling, this is going to be the tab that you visit the most. Here you can see what products sold on what days. You will also see an earnings tab up top. When earnings finalize, they will show here so you know exactly how much you are making. Make sure to check this page daily to see which products are selling!

That about covers everything you need to know and will use in the backend!
T-Shirt Niche Research
Now that you have an account, or are waiting for an account, this is the time that you need to research niches. There are two key aspects you MUST understand for you to have any success on Merch. The first is BSR or Best Sellers Rank, and the second is understanding Copyright.
Amazon BSR (Best Sellers Rank)
Every product on Amazon has something called a BSR or Best Sellers Rank. When you come across a product in the Amazon catalog, simply scroll down past the product pictures and right under the product description, you should see a box that looks like this:

Here you can see the Amazon Best Sellers Rank for this item. The BSR is a representation of how well that item is selling. From my time selling on Amazon FBA and selling on Amazon Merch, a good rule of thumb is that if an item has a BSR of 100,000 in clothing, that shirt is probably selling 1 design every day. The lower the number, the more shirts are being sold each day.
If the BSR is around #2,000 you can expect that the shirt is selling 25-50 of that design daily. Around #400,000 and the design is probably selling once or twice a week. The more you sell on Amazon and keep track of the BSR, the better idea you will get on how it correlates to sales. Just remember that the lower the number, the more popular the shirt is with consumers! Keep that in mind when doing research.
Copyright
You also need to have a full understanding that you cannot infringe on copyright with Merch. You may come across some shirts with a very low BSR, but they might have disney characters or sayings on them. You clearly do not own the intellectual property to those sayings or images so this would be infringement. If Merch catches you, they will take that design down and send you an email telling you not to do it again. If you get enough of these, your account will eventually be closed, so you need to be careful.
To ensure no sayings or characters are copyrighted, you should be checking all your ideas through one or both of these websites. I prefer Trademarkia, as they are much more user friendly and I have had zero issues since starting Merch by using them.
Finding Designs
Now that you understand Amazon's Best Sellers Rank, and know that you need to be checking Copyright, you can now start looking for designs. The goal is to find shirts with a low BSR that cannot be Copyrighted. This means they are SELLING and that customers like products in that niche. You can then go on to create shirt designs that are much better than what is currently being offered and make sales!
You could go on Amazon and start searching for keywords. You could go and click on each individual shirt that pops up for your keyword searches and look at each listing to see what the BSR is. You could also search for each and every name through Trademarkia individually.
These are the exact steps that we took when building our accounts at first.
… But it took a long time! What started out as a side project, ended up taking time away from multiple other projects that we were working on.
I choose a lazy person to do a hard job. Because a lazy person will find an easy way to do it. ~ Bill Gates
So, wanting to continue the upward trend in earnings without wasting our time searching hundreds of listings on Amazon, we came up with a better way.
Introducing Merch Informer
For the past 5 months, we have been working to replicate my process of finding T-Shirts ideas that sell! Merch Informer was built to give you all the data you need to succeed with Merch by Amazon, and more importantly save you a ton of time in the process. We are just days from Launch so if you want to get in at the lowest price we will ever offer ($10 p/m), then make sure you hop on the list here: Merch Informer.
Long gone are the days of searching for multiple hours to find a few t-shirt ideas to send to your designer. With our all-in-one solution, you will be able to search for 5 keywords at a time, grab the top 100 best selling t shirts for each keyword, and have it all sorted by Amazon's Best Sellers Rank. Not only are the shirts sorted by BSR, but in a single screen, you have the URL of each product, the bullet points that Merch seller has used, and the description.
Not only can you easily see the top 100 selling products per keyword, you also have the ability to run a quick competition check to see how many competitors are in the niche. Remember that if there is little to no shirts in that keyword/niche but the shirts have a low BSR, this is a prime opportunity for your account to make money!
If you need to check the Copyright on a certain shirt or keywords, simply click on the Copyright button which will bring up Tradmarkia already prefilled with the shirt title.
Perhaps you found a shirt while using Merch Informer that infringes on your Copyright? No problem! Simply click on the report infringement button to pull up the Amazon Infringement Form. Fill it out and get the copycats taken down.
Now, let's say that you found a few designs that you like and think that you (or your designer) could really improve upon and sell on Merch. Simply click on the favorites button for each design you like, and it will be moved to your favorites tab. From the favorites tab, you will be able to download high resolution images, shirt titles, shirt bullet points, and shirt descriptions all in an Excel spreadsheet that you can send straight to your designer to get your new, more improved designs created!
Niche Research
When you login, navigate to the right hand menu, and select product search. Here is the interface where you will be able to search for up to 5 keywords at a time. If you want to add a keyword, simply select + Add Search Field.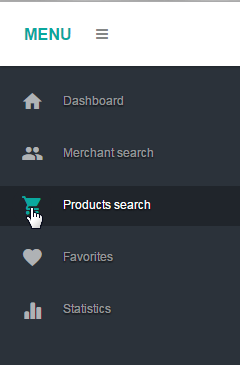 Let's do some niche research and see if we can find some good designs we could improve on! In the below screenshot you can see I entered a keyword I want to see the best ranking shirts for. Make sure to check "Only by Amazon" if you want to search for just Merch by Amazon shirts, or leave this unchecked to search all of clothing. Both are excellent for research.
Keyword Searched:

If you want to search more than 1 keyword at a time, it would look like the below screenshot. For now, to make things simplified for this guide, we will only be searching for cat t-shirts.

Click on Search and wait. Each keyword you search for will take around 10 seconds. When the tool is done pulling your results, they will be displayed below. You have the option to show all results on the page, or pick to only show a certain amount of results with the filter drop down.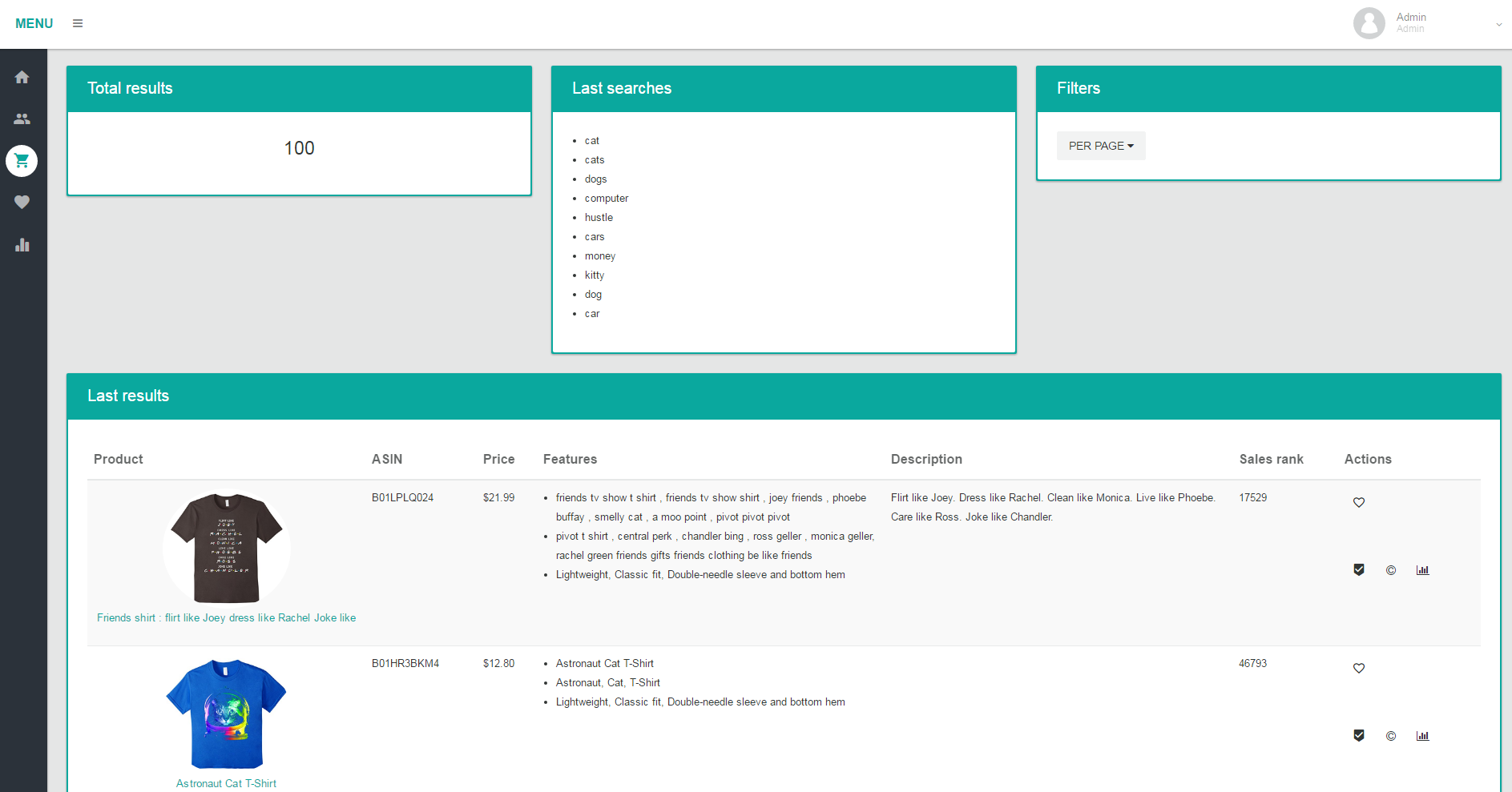 You can see above that Merch Informer will keep track of your past searches which comes in handy when you are switching back and forth from your favorites tab.
Each result is sorted by Best Sellers Rank so you can see at a single glance which designs are selling. Scrolling down a bit, something catches my eye right away.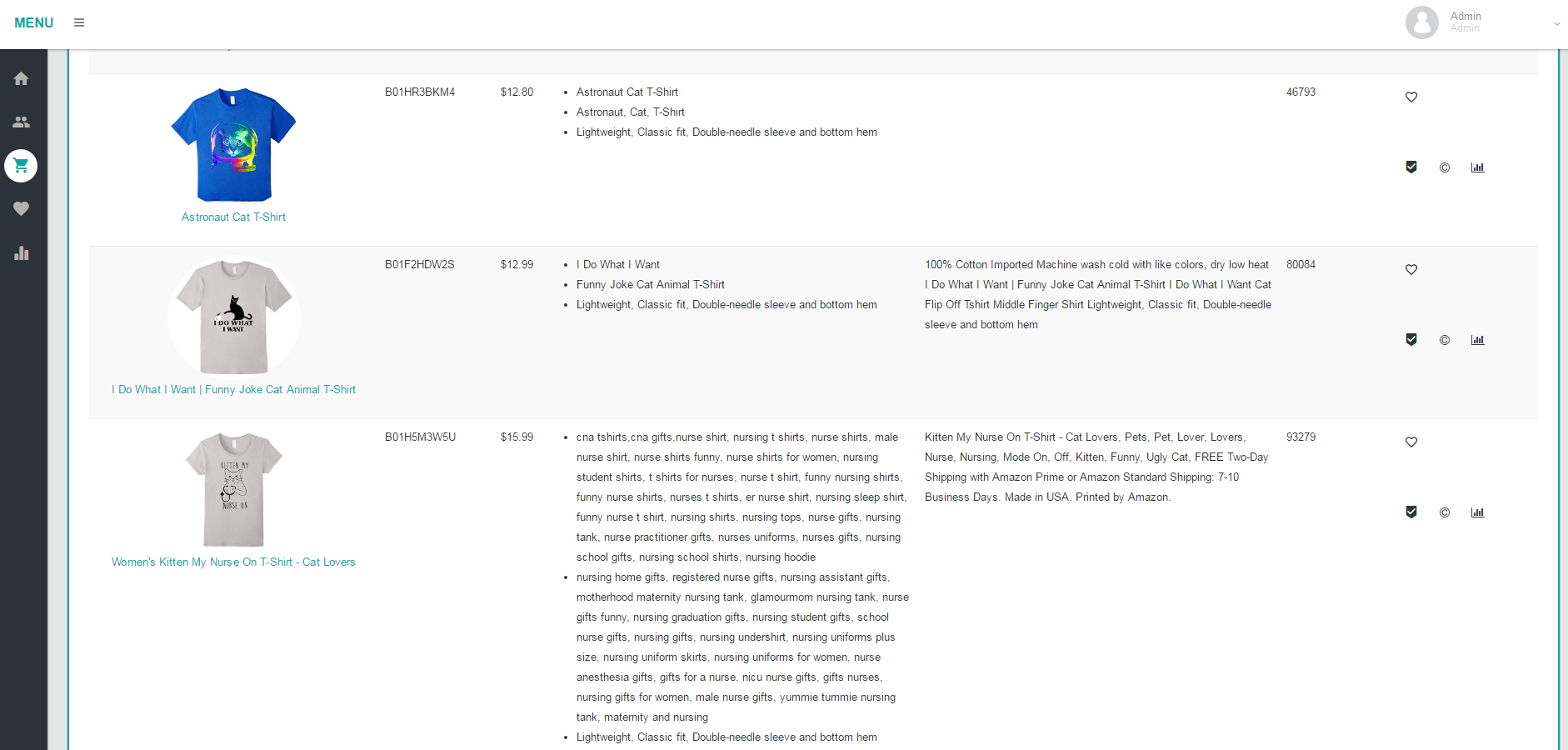 Notice that last shirt there? What a simple design! It combines 2 niches in 1. You have Cats/Kittens and Nurses. You can see on the right that this shirt is currently ranked at a #93,279 BSR which means that this design is likely selling at least one shirt a day. Since I like this design and know it is selling, I think that my designer could easily make something a lot better. Add it to your favorites by clicking on the little heart icon!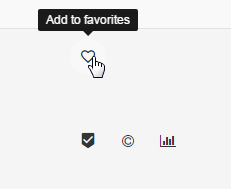 You can also check the Trademarkia for Copyright by clicking on the check mark, check the competition for that shirt by clicking the graph icon, or click on the Copyright icon to fill out Amazon's infringement form if that design is infringing on your IP!
Merchant/Brand Search
Maybe while you were doing research, you found a certain brand that seems to be doing well and does not have any designs which are Copyrighted. Even though they have a lot of shirts up, their designs are simple and could be improved on. With Merch Informer, you can easily go through and pick out their top 100 selling shirts with a single click.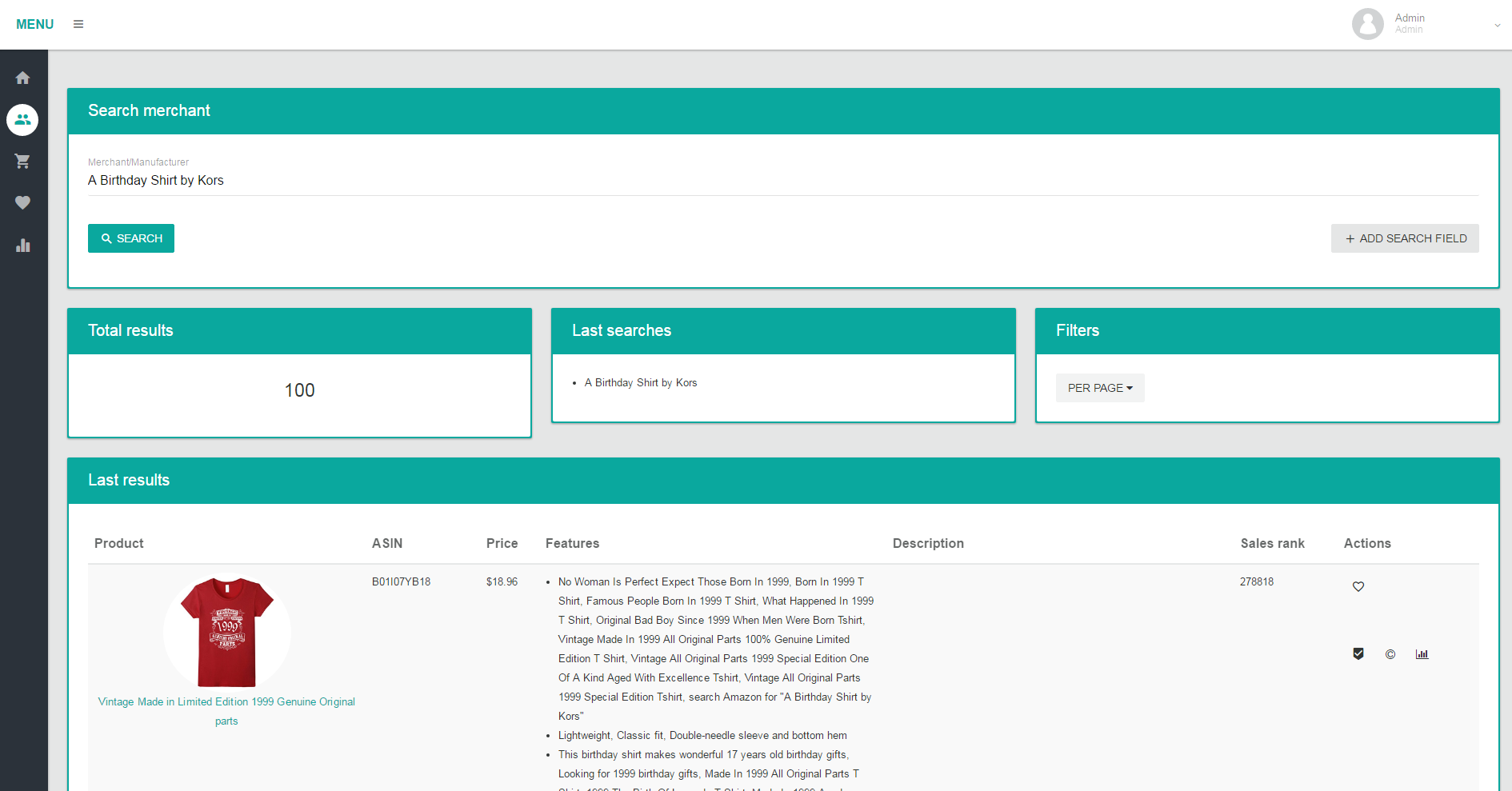 Going through different Merchant's products has literally never been easier. 10 seconds and you have their top 100 selling shirts that you can improve on and see which niches they are selling well in, and which would be a waste of time. You can easily see how this can put more money in your pocket.
Statistics
After a while of selling on Merch, you may want to keep track of your best selling shirts. We have built in a BSR Rank Tracker which will allow you to import your top sellers and see how they perform day-to-day by tracking the swings in your BSR.
What You Need To Create Designs
After you have saved 25 shirts to your favorites in Merch Informer, download them and the details you want into an excel spreadsheet with the click of a button.
Now you have a choice to make, do you make these designs yourself, or do you outsource them? Let's start with creating them yourself which is exactly what we did when our accounts were brand new.
Merch By Amazon Templates
You will need one of the above templates depending on what program you wish to use to create your designs. Photoshop is a paid program (they do offer a monthly payment plan), or you can go with GIMP which is free. Since I already have Photoshop, that is what I have chosen to use.
Open up Photoshop, and then open the template from Merch. It should look just like this: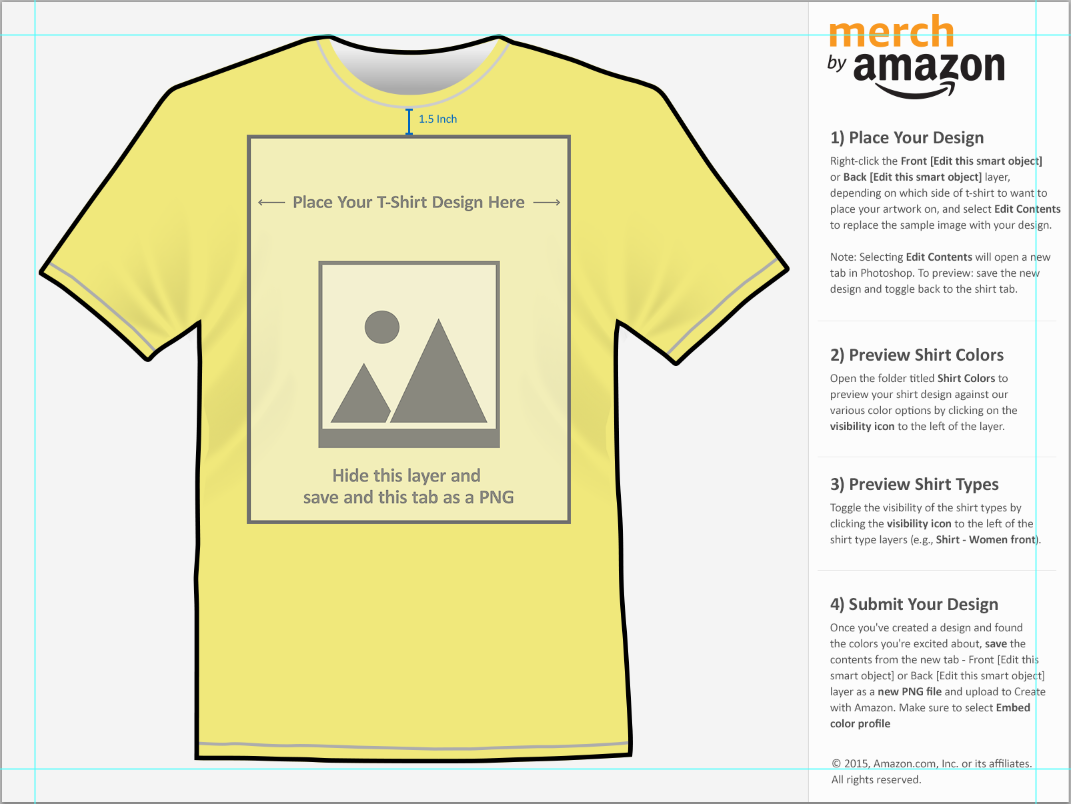 Now you need to follow the directions on the right side. Right click, edit contents, and then hit okay. The window that comes up is the design window.
Design your image in this window. Once you are done, go up to the Photoshop menu, and save as a PNG. Saving as a PNG is important. If you use the supplied templates, the designs will be the correct dimensions!
Listing Optimization + Keywords
Now that you have your images designed and saved, it is time to upload them to Merch!
I will be using an example that I created for this blog before. This is the image I had: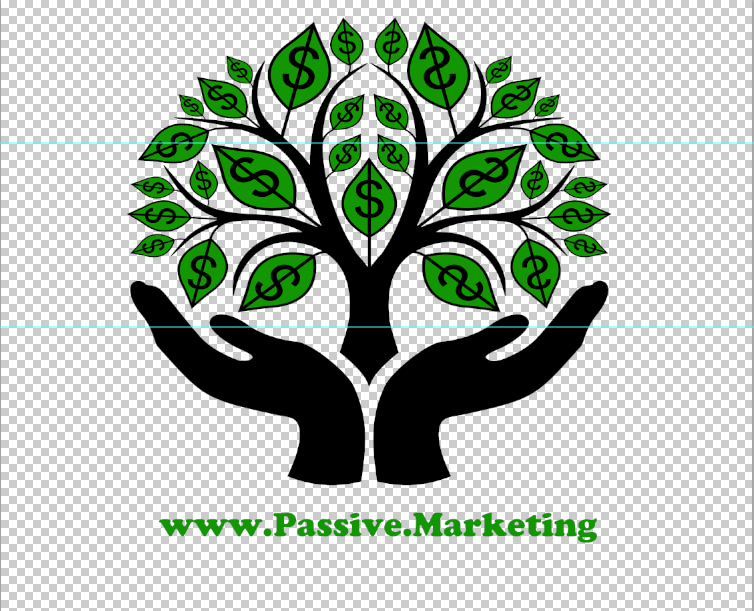 Now head over to Merch By Amazon, login, and click on upload new artwork. It should bring up a page that looks like this: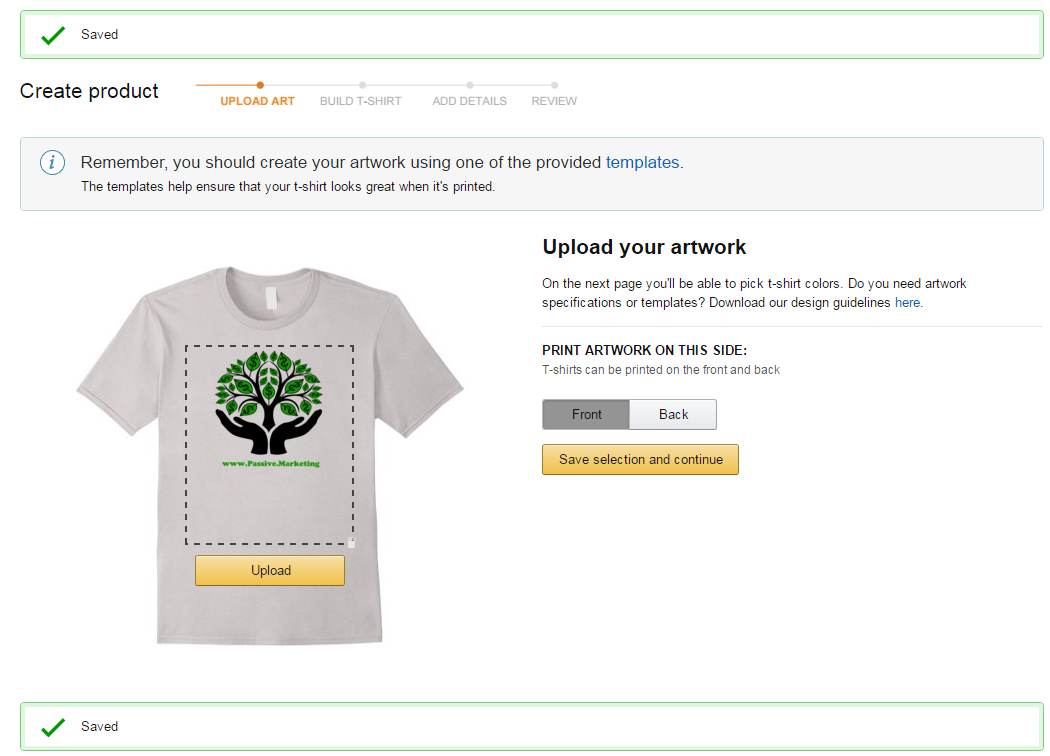 Once your design is uploaded, click on Save selection and continue.
This will bring up a page that looks like this: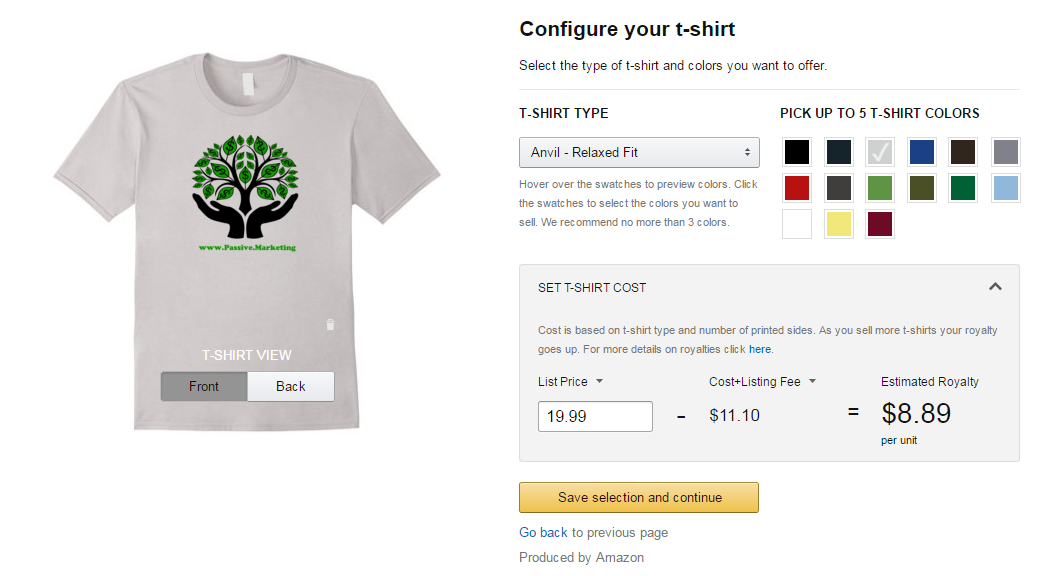 This is where your listing optimization starts! In a recent Merch by Amazon webinar, they let it drop that the colors are sorted by the most popular. That means that black, blue, grey, and navy blue are the 4 most popular colors.
With that knowledge in mind, pick 5 colors (5 is the max), that you think looks best with your design.
Your listing price is up to you. The price that is already entered is $19.99, but I have found that the majority of the shirts I sell are priced between $15.99-$18.99. I price them based on the competition check in the Merch Informer software. The less results/competition I have, the higher I price the shirts!
Once you are happy with your color selection and your price, click on Save selection and continue.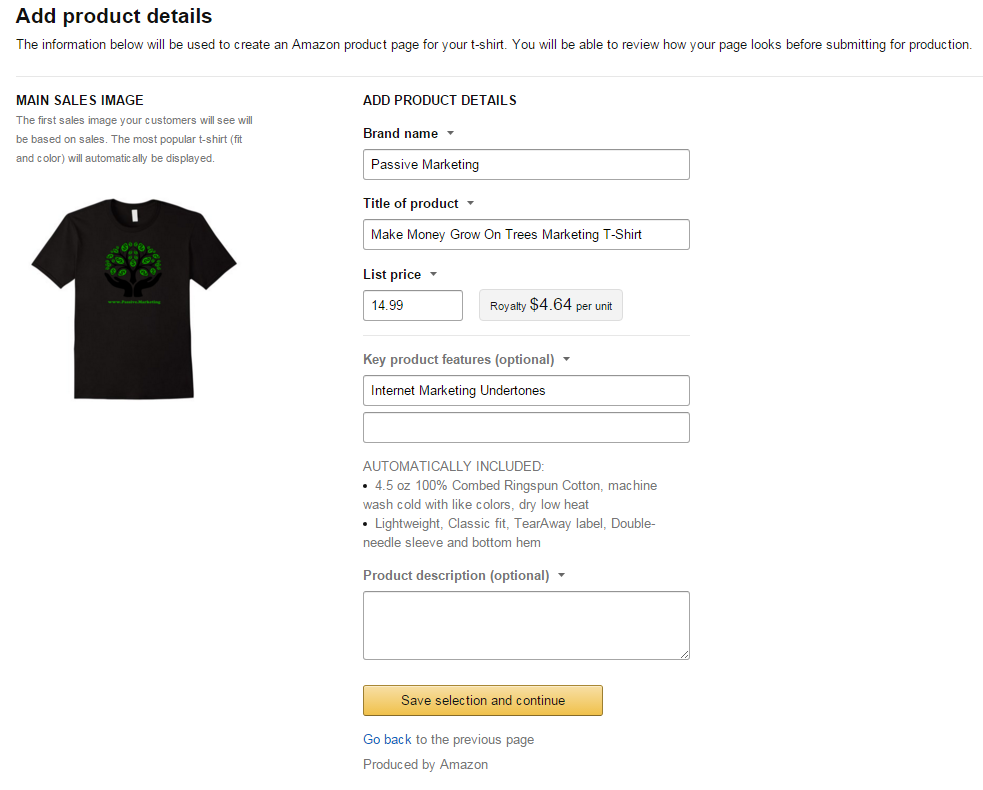 This will then bring up the most important aspect of your listing. The product details page!
Choose a brand name that you think fits with the shirt design. You can add a keyword here, but do not make it look spammy. For this example the brand name is the name of this blog.
The title of the product is very important. You want to properly describe the T-Shirt while adding as many keywords as you can think of (from a buyers perspective), without looking spammy. As you can see from the above example, I have the keywords "marketing", and "money" included in the title. Always end your titles with T-Shirt because so many customers actually search that while looking for products to buy. If I were to do a cat t-shirt like the example above, I might title the shirt "Kitten My Nurse On T-Shirt Nurse Cat Love Tee". From this title you can see that I have included a bunch of keywords that I think a potential buyer might search for.
Remember: Think of keywords as if you wanted to find this shirt as a buyer!'
The key product features are what end up being your bullet points under your shirt. The title and the bullet points from my testing and experience are the ONLY thing that matter for ranking in Amazon. In fact, for my own account, I leave the description blank!
The first product feature should be about the shirt itself! Remember to include keywords that a potential buyer might be searching for! Are they buying it as a gift for friends or family? You may want to include the word "gift" somewhere in there.
The second bullet point is where I take the opportunity to tell potential buyers that all these shirts are printed to be fitted. Since I want to get 5 star ratings, I want to ensure that they are purchasing the right size. I will often let them know in this bullet point to order a size up if they prefer a looser fit.
As I said, I often skip the product description but if you want to fill it out, go ahead and describe your shirt!
Click on Save selection and continue when you are happy.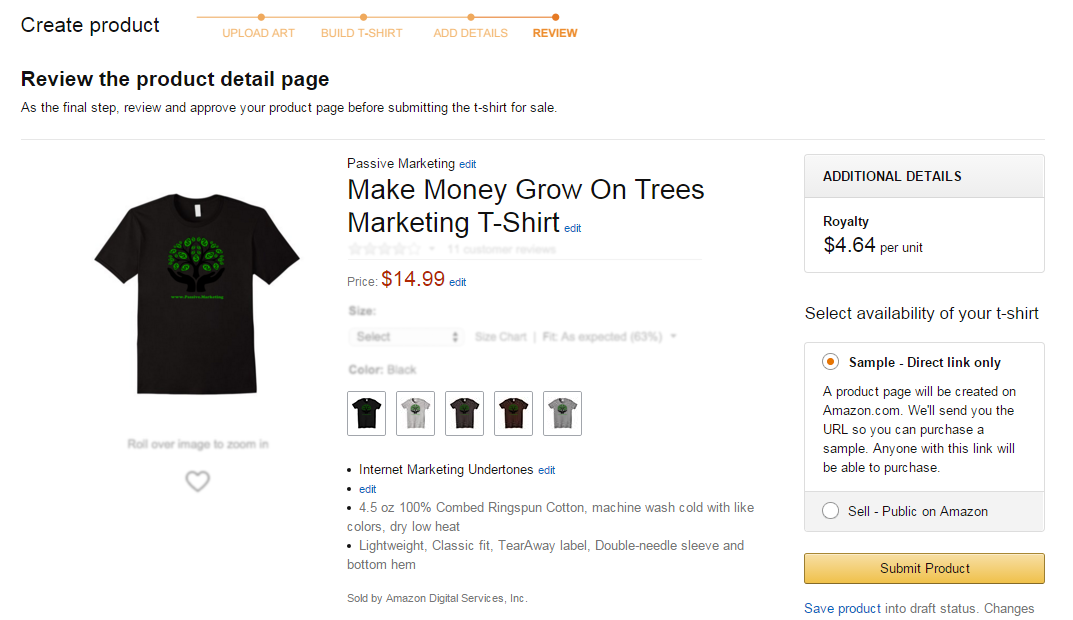 It will bring you to a page that looks similar to this. Simply check the box that says "Sell – Public on Amazon" and click on submit!
Your shirt will then go into the review process, and once it passes will be live for anyone to purchase on Amazon and make you money!
Outsourcing Designs
After my account started to make money from the designs I did myself, I decided to outsource them! This is the easiest way I know of to scale as fast as possible. Since this was a side project, I wanted to free up my time as much as possible.
After you use Merch Informer and have a lot of designs saved in your favorites, it is now time to send them to your designer. Download your saved favorites into an excel spreadsheet. This is the file you will be sending to your designer.
So where do you find a designer you can count on? I have had excellent success by using Upwork. In fact, I found a designer that I have hired full time for $4 per design. I have found that a lot of great designers are in the Philippines and $4 a design really ads up to a great wage there. Ryan, if you are reading this, thank you for all the work you have done!
Below I have posted the exact script I used to find an excellent designer. Feel free to use it yourself!
Hey, I am in need of 400 t-shirt designs in the time period of 2-3 months.

Your task will be pretty basic, I will send you ideas of t-shirts I want to make and you make them even better and unique. For example, I might send you a link of a already existing tshirt and I would need it being inspired by it and made even better and unique.

I will leave you a lot of 5* reviews so that you will be able to get jobs easier in the future and this is a long-term position needed. Once we have done the first batch of 400 – around 4 per day, we could continue if everything looks good.

I look forward to doing business with you!
This works so well for a couple of reasons. The first being that you have a LOT of work for someone to do. This means continued work for them. It also works well because you will pick up designers that are looking to build up their Upwork profile by getting some great 5 star reviews. This means they will be putting their best designing effort towards your projects.
Weeding Out Bad Designers
When I first tried to hire someone to design for me, they stole images and straight up copied designs. This is wrong, and will get your Merch account banned. I was not able to use any of these designs.
When I first hired someone, I let them know that they cannot use any images which are Copyrighted, or infringe on any Copyright someone else owns.
Then, I will send them a T-Shirt idea that is very clearly Copyright infringement. If they copy it or do not change it enough to be considered free use, I will immediately get rid of that designer. The design may have cost me $4, but that is an extremely small price to pay to weed out the copycats!
Selling Your T-Shirt Business
When it comes down to it, this is a business and should be treated as such (not just a hobby). We are all here to make money.
I have hinted at this in the past, but now it is just time to come out and say it.
Earlier this year, my business partner and I decided to sell a Merch account. Since the platform was so new, we knew it was going to be difficult to find a buyer.
We reached out to a few website brokers, but none of them were willing to accept a Merch account as the vast majority did not have any idea what the platform even was! Then I got in touch with my friends at Empire Flippers.
I had sold a site with them previously and am told it is still doing well to this day. I reached out and asked if they would be interested in taking on this project and selling it for me.  It turns out they were! I described exactly what the platform was, how it works, and what needed to happen to get the process started.
Since it is not a website, I simply paid the listing fee, and then emailed them over all the earnings statements and documents needed to prove that we owned the account and it was making what I said it was making. The account averaged about $3,000 a month at that point.
I ended up doing a seller interview with them, and got the listing posted.

We talked to a bunch of interested parties, but finally came to an agreement and sold the account without an issue!
Where We Are Today
There we have it. All the steps laid out 1-by-1 that we used to make over $150,000 in 2016 with Merch by Amazon. When you add up the monthly earnings that account was making, the sales price, and what my account is currently doing per month, you can see the vast opportunity that is in front of us. There has never been an easier way to make money online than by selling T-Shirts on Amazon.

To leave you with a little inspiration, here is my current account sales for the week. You can see how many shirts I currently have live as well as what tier I am at. Good luck out there and keep pushing forward!